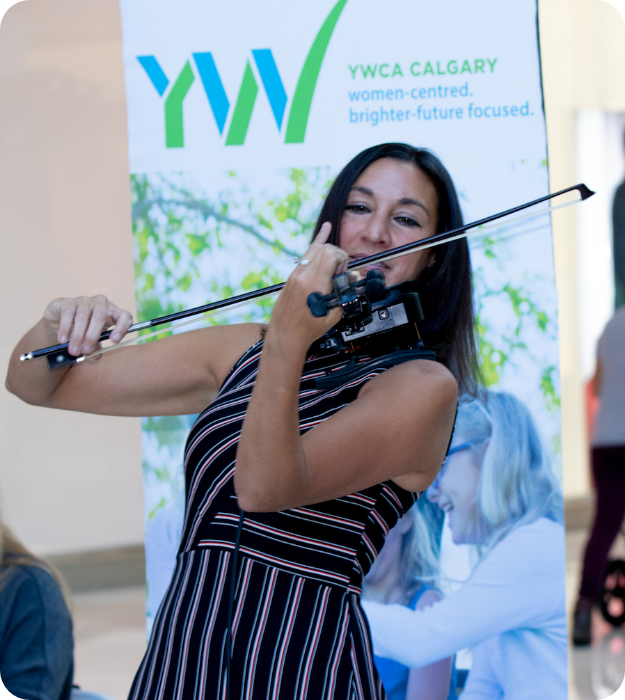 Please Contact Us , and we will send you a full quotation including availability and fees along with the contract.
To complete a booking, sign the contract and email it back to us. Make your deposit payment stated in the contract through any of the payment methods described.
We will provide you with a confirmation and send our repertoire lists to choose your music from. The balance payment is due 30 days prior to the event.
Do you perform outdoors? What are your requirements?
If requested we would be delighted to perform outside. The Calgary and Rocky Mountain weather however present their own unique set of challenges at all times of the year. Being a professional ensemble, we perform using expensive instruments which can have a combined value of $100,000 or more. The instruments, sheet music, stands and musicians must be protected from wind, sun and rain, making outside cover required. An extended canopy/ tent with three walls supplied at the client's expense are required. Adequate lighting and chairs without arms are also necessary. The normal ambient outside performance temperature is between 18°C and 26°C. Outside of these temperature parameters, performances may be moved indoors to not incur damage to the instruments and our hands.
Could you play a song that is not in your repertoire list?
Absolutely! We offer a professional music arrangement service for pieces which we don't have in our repertoire. We would normally require minimum 1 months notice to write, arrange and rehearse the piece. An additional fee is charged for this service. Please contact us for further information.
Do you perform out of town?
Absolutely! Please contact us on your desired location and venue. We will then provide you with a quote
What styles of music do you play?
More than just Classical music, we pride ourselves in a wide repertoire spanning a variety of genres including pop, rock, tango and cinematic. In reality, basically anything (Bach to Beatles, Mozart to Coldplay & Journey)! If it's not on our list we will professionally arrange the music for you. (extra special song request charge applies). We specialize in creating the perfect music for weddings, parties, cocktail hours, and other public/private/corporate events.
How many songs do I need to pick for my wedding ceremony?
The wedding ceremony package includes Prelude music 20 minutes prior to the ceremony start time as your guests are arriving. The music during this time are picked by us to set the tone and theme for the ceremony. The songs to select will be for the following:
Processional song for bridal party walk
Processional song for bridal walk
Song for Signing of the Register
Recessional song for exit walk
Let us know how many people are in your bridal party so we can appropriately time the ending of the songs and transition to the Processional piece for the bridal entrance walk.
Our ceremony and cocktail hour will be in two different spaces / venues. How much time do you require to set up?
We are happy to accommodate different venue locations for ceremony / cocktail hour. Please contact us to discuss the details and we will provide an accurate quote for tear down - set up and travel.
What is included in the wedding ceremony package?
The wedding ceremony package includes prelude music 20 minutes prior to the ceremony start time, Processional song for the bridal party entrance walk, a separate Processional song for the bridal entrance walk, music during the signing of the register and Recessional song for the exit walk to conclude the ceremony. We supply the couple with our repertoire lists to choose their ceremony songs. Amplification is supplied for up to 150 guests. We require a space of 8 x 8 and has access to a power source.